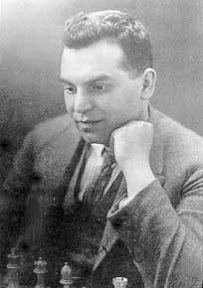 To coincide with listing
Réti's Best Games of Chess on eBay
, I'll talk this week about some of his finest moments.
At the famous
New York International Chess Tournament 1924
Richard Réti defeated two World Champions, Capablanca and Alekhine, and won the 'first brilliancy prize' for a 25 move miniature against Bogoljuboff. Capablanca lost very few games in his career, and incredibly, his defeat against Réti was his first loss for 8 years!
This is the crucial position, after 25 moves, where Réti, playing White, found a move that sounded the death knell for Capablanca:
26 Nd4!
The game concluded:
26 ... Bxg2; 27 Kxg2 Qe5; 28 Nc4 Qc5; 29 Nc6 Rc7; 30 Ne3 Ne5; 31 R1d5 resigns
I was amazed to find that 31 R1d5 was actually a sealed move. Did they really play sessions as short as 30 moves at New York?
You can play through the games against
Capablanca
and
Alekhine
online.