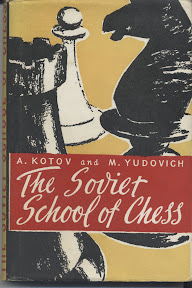 One of the favourite titles that I have on my bookshelf is "
The Soviet School of Chess
" by Alexander Kotov and Mikhail Yudovich. As a chess book it's excellent; as an example of the propaganda that emerged during the cold war it is unsurpassed.
Written in 1958, when the likes of Botvinnik, Smyslov and Bronstein were at the height of their powers, and Korchnoi, Tal, Petrosian and Spassky were breaking into the world elite, it captures the most important period in the development of the modern game.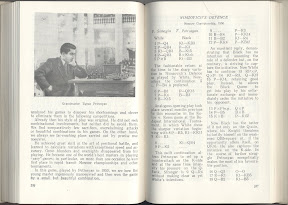 The book includes 128 brilliant games, with deep analysis and annotations, profiles of 51 great players, enlightening photographs, a history of chess in Russia, the development of chess theory and strategy, and details on how the game is studied in the "Soviet School".
I love it as a historical document as well: for the transparent propaganda of the 1950's that brings a smile every time you read it. I wonder whether it was written out of fear, a desire to please, or simply fanatical belief. In the US, Dover were so worried that their 1961 edition included
" a new Dover introduction by a foremost authority places the historical elements in proper perspective"
.
I have the Dover version, but I've also managed to obtain a magnificent first edition of the original english translation, published in Moscow in 1958 by the Foreign Languages Publishing House. Keep your eyes out for
it on eBay this week
A snippet from the introduction:
Chess has become a national game in the Soviet Union. It is played by millions of men, women and children. Large-scale tournaments are held regularly in factories, offices, schools and collective farms.

The rise of the Soviet school to the summit of world chess is a logical result of socialist cultural development...



Register on eBay.co.uk!