The Sämisch Variation of the Nimzo Indian gives rise to some spectacular attacking games. I've already talked about
Euwe's brilliancy at Zurich 1953
, and
one of my wins from the Northumberland Quickplay Championships
.
One of my best games with the variation was played in the Kent League back in 1995, where a Bronstein idea, pushing the f-pawn down the board, brought me a miniature victory against a strong opponent:
Roger Coathup - Colin Gentile (201 BCF,
~2260 FIDE
), Kent League 1995
1 d4 Nf6; 2 c4 e6; 3 Nc3 Bb4; 4 a3 Bxc3+; 5 bc c5; 6 f3 0-0; 7 e4 d6; 8 Bd3 Nc6; 9 Nge2 Ne8; 10 0-0 b6; 11 f4 Na5;
Najdorf tried 11 ... Ba6 in this position in the 1950 Candidates against Bronstein but went down quickly to the same idea: 12 f5 e5; 13 f6 Kh8; 14 d5 Na5; 15 Ng3 gf; 16 Nf5 Bc8; 17 Qh5 Bxf5; 18 ef Rg8; 19 Rf3 Rg7; 20 Bh6 Rg8; 21 Rh3 1-0.
Black does better to play 11 ... f5 stalling White's f-pawn, after which the game takes on a completely different character.
12 f5 e5?!; 13 f6!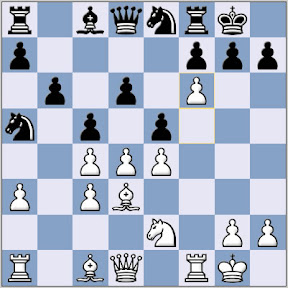 13 ... Nxf6?
After this Black is caught in a deadly pin on the half open f-file, and can't organise any reasonable king side defence. As we've seen in the Bronstein game, leaving the pawn on f6 also leaves Black in difficulty.
14 Bg5 Bg4
With Ne2-g3-h5 threatened, Black decides to exchange off the knight.
15 Qe1 Bxe2; 16 Bxe2 Re8; 17 d5 h6; 18 Bxf6 gf; 19 Qh4 Kg7; 20 Rf5 Rh8; 21 R1f1 Rc8; 22 Rxf6 Rc7; 23 Bh5 Rf8; 24 Bxf7 1-0