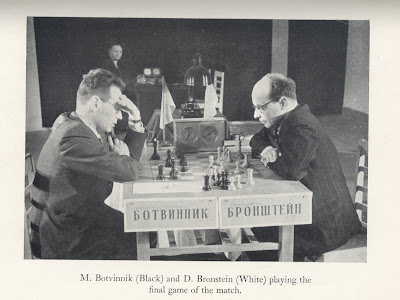 I've put 3 more books up for auction on eBay, this includes excellent editions of Reuben Fine's "Basic Chess Endings" and Howard Staunton's classic "Laws and Practice of Chess". The star item in the lot though is a very rare first edition of "
The World Chess Championship 1951
" by William Winter and RG Wade.
The 1951 Championship match was a fluctuating battle between Mikhail Botvinnik and David Bronstein, with some fabulous chess, that ended in a 12-12 tie. There is some speculation that Bronstein threw the penultimate game under orders from the Kremlin not to beat the champion.