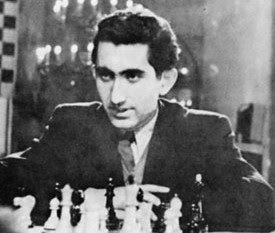 Team England didn't have the most successful time at the European Chess Championships, although some players did manage positive rating performances, including Jovanka Houska who made a strong 7 out of 11 in the women's event. Peter Sowray has written a
comprehensive report
on the English Chess Federation website.
Peter deserves special mention for not only 'managing' the team and reporting each day, but also for gaining the most rating points (over 18) by an english player at the championships, and for being very supportive of Sophie and the Chess Tales blog. Peter and I have met once over the board at the Isle of Man Tournament. I caught him in a 'standard' Sicilian Kan trap, winning a pawn and the better position out of the opening, but then had to scramble for a draw as he whipped up a dangerous initiative.
Young IM Stephen Gordon recovered well from a slow start, but unfortunately lost his final round game to the Armenian Grandmaster Tigran Petrosian. Stephen's rating has climbed at lightening pace to 2490; we played at Scarborough just 3 or 4 years ago when he was still rated in the 180's BCF (about 2100 FIDE). In that game, I played the King's Indian Defence and Stephen 'surprisingly' exchanged his bishop on e3 for my knight on c5 (the dark squared bishop is usually a piece White likes to keep hold of in the King's Indian Defence). However, his decision was sound and quickly led to a decisive position for White.
Unfortunately, I can't find the game score, so instead let me show you one of the most famous King's Indian games ever played and the other Tigran Petrosian (the former World Champion) also voluntarily parting with his dark squared bishop. It's from the Interzonal Tournament at Stockholm in 1962, and played in the 20th round! Petrosian finished 3rd, 2.5 points behind Fischer, but went on to win the controversial Candidates tournament in Curacao and then take the World Title from Botvinnik. In the game, Petrosian gives up both bishops for knights, but gains a total positional bind.