I was surprised how quickly some of you solved last week's Friday puzzle from Asztalos vs Ban, Budapest 1956: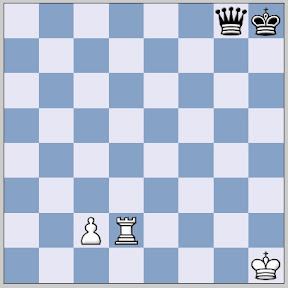 Obviously White can win Black's queen for his rook, but to win the game he also needs to get his king to the fourth rank first. So, the solution is:
1 Rh2+
Now:
1 ... Kg7; 2 Rg2+ Kany; 3 Rxg8 Kxg8; 4 Kg2
and the king reaches c4 with a straightforward win (see
Chess Improvement #3: Your endgame databank
).
But, Black has a clever defensive try:
1 ... Qh7;
Now:
2 Qxh7+
would be a mistake, as after
2 ... Kxh7
, the Black king reaches c5 with the opposition, i.e.
3 Kg2 Kg6; 4 Kf3 Kf5; 5 Ke3 Ke5; 6 Kd3 Kd5; 7 Kc3 Kc5
with a standard drawn position
However, White can still win:
2 Kg2!
and again the White king gets to c4 with a straightforward win: e.g.
2 ... Qxh2+; 3 Kxh2 Kg7; 3 Kg3 Kf6; 4 Kf4 Ke6; 5 Ke4
etc. or
2 ... Kg7; 3 Rxh7+ Kxh7; 3 Kf3
Stay tuned for this Friday's puzzle.