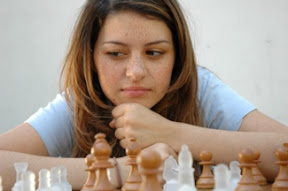 Queen of Cactus Cove
is an award-winning short movie about Billie, a girl with aspirations to be a national chess champion. Their chess adviser certainly knows the game better than most; check out the King's Indian vs. King's Gambit cracks, the pain of a bad loss, and some 'true-ish to life' chess and tournament sequences.
It came out last year and has mainly been shown on the festival circuit. The full movie (22 minutes) is
now available to watch online
at the Independent Film Channel's Media Lab.
From the sublime to the ridiculous next. I suspect many of you will have already have encountered the hilariously awful "Chess Now", which apparently airs on Manhattan Neighbourhood Network TV. For those who haven't, here's episode 1 (warning contains some offensive material).
YouTube
has 3 more episodes and an interview with the 'brains' behind the show.